Happy, happy new year! I am sure many of you are thinking the same thing, but 2012 just flew by for me! I can't believe how quickly time seems to be moving....maybe it is the small fact that I am now over 40...eeekkk!!! LOL
Now the exciting thing about 2013 is that Tiddly Inks finally has some new clear stamps ready for release....there are 8 new images that will be released in the month of January...they are going to be spaced out a few at a time, so we will have a fun month. :)
The first few will be available on January 3....and we are going to have a little way to help me advertise and for one lucky person to win ALL of the stamps released in January. :) Yep, ALL of them....hehe
Just post this badge on the side bar of YOUR blog and then link below...you may grab the image and link it to this blog or you may grab the code in the side bar.
EDIT: IF YOU ARE UNABLE TO USE THE CODE TO POST, PLEASE ADD THE PICTURE AND THAT WILL WORK TO QUALIFY YOU FOR THE DRAWING. :)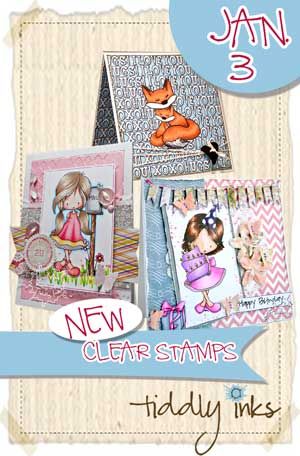 When you have posted the badge, then link your blog address in the Inlinkz collection shown below (blue frog).
On January 15, I will pick one person's blog linked below and (if they still have the badge on their blog), they will win all the new stamps I release in January.
Easy peasy...:)