So big huge Yay for finishing up with moving...I am so excited to be done and back on schedule for the most part...I still don't know where everything is, but what else is new. LOL
I am currently working on several new Wryns, but I have two to share this week. Little story for the first one.
So one of my delightful DT members Lou, who is a doll in so many ways, has a secret treasures in the form of a hilarious kiddo who comes up with brilliant ideas that Lou passes onto me...hehe. So the first little Wryn was suggested by Lou's crafty-like-a-fox kiddo! :)
Now, the saying comes from a goodbye game I play with my Little Bit (who is also crafty as a fox) . :D To say bye at school, I say "I love you!" She says "I love you MORE!" and I say, "Nah-uh, I love You MOST!" and we both grin and she hops out...:) So, to all of you who have someone you love the MOST...
...meet
Wryn and Mo--I love you most
(sentiment is included, plus a surprise one too)
edit: Jen asked what I used on Wryn's hair and I think I used these colors:
I started with Y30, mixed with YR04, R27, E49, E18, Y02, YR07---It was a hodgepodge of shading....hehe I never follow any sort of recipe...just what feels good at the moment.

We just moved back to the family farmlett (to avoid serious allergy problems in an older, but beautiful rent house), so our new favorite pasttime is walking around and picking weeds...yup, weeds. LOL We have tons of small purpley clover/weeds that grow everything and they make great little bouquets....It make me think spring already (we have a few months to go here) and flowers, so meet:
This sample was made by the delightful
Tracy
. :)
We also have a new challenge this week (click
HERE
)...you really ought to see the amazing entries we have had of late!!! OMG!! They are awesome! :) I think everyone is enjoying the extra week we added to the challenges this year...it allows more people to play along and WE are certainly happy to see your delicious creations!! :) Please play along when you have time. :)
I loved the little fox so much, I decided to make a little badge for her. :)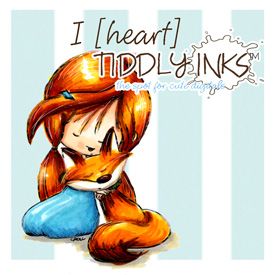 Have a wonderful week and I will see you next Tuesday with another new Wryn....I have tons of ideas going, but I love suggestions, so feel free to leave a comment or drop me an email. :)